Vision to be the leading premium tech-driven fashion platform worldwide
Driving relevance for BOSS and HUGO with the ambition of becoming one of the top 100 global brands
Successful strategy execution makes 2022 a record year for HUGO BOSS
At HUGO BOSS, we see considerable business opportunities in today's rapidly changing world. We are committed to fully exploiting these opportunities in the coming years by making use of our high global brand awareness, our extensive expertise in product development, our diversified and vertically integrated business model, and our global distribution network. With our two unique brands, BOSS and HUGO, and their wide range of premium apparel, shoes, and accessories, we are well positioned to benefit in particular from a globally growing middle and upper class. In this context, we are especially focusing on younger consumers, such as Millennials and Gen Z. The latter is particularly relevant for the premium apparel industry, as it is estimated to make up the largest consumer group within the sector by 2030. In order to meet the high demands of these consumer groups, we strive at significantly increasing the relevance of both BOSS and HUGO in the coming years, on the basis of first-class products as well as a seamless brand experience across all consumer touchpoints. In this context, we aim at fully exploiting the great potential of digitalization, make our value chain even more efficient and flexible, and consistently focus on sustainability.
"CLAIM 5" growth strategy
Against this backdrop, we introduced our growth strategy "CLAIM 5" in August 2021, outlining our financial ambition until 2025. At the very heart of "CLAIM 5" is our aim to substantially increase brand relevance among consumers, drive superior top-line growth, and thus significantly increase market shares of BOSS and HUGO over the coming years.
"CLAIM 5" is closely linked to our vision and ambition of being the leading premium tech-driven fashion platform worldwide and becoming one of the top 100 global brands. In this context, more than ever before we are putting the consumer at the center of all our activities. We aim at turning consumers into true fans and retain their loyalty to BOSS and HUGO. Our strategy is thereby based on five strategic pillars: "Boost Brands," "Product is King," "Lead in Digital," "Rebalance Omnichannel," and "Organize for Growth." It also includes a bold commitment to sustainability, together with a strong executional road map, and a firm commitment to empower people and teams. Employees and Teams
"CLAIM 5" GROWTH STRATEGY
Touch for more
Click for more
Why

What

How

Sustainable Throughout

Product

Quality, durability, health, environment & animal welfare

~60%

share of
responsible styles

by 2025

People

Fostering a fair and responsible culture

>75%

employee
satisfaction

by 2025

Planet

Our contribution to climate protection

Rigorous Execution

Empower People and Teams
With "CLAIM 5", we have implemented the right strategy at the right time. Our comprehensive branding refresh was key to our strong comeback.
Fiscal year 2022 represented an important milestone for HUGO BOSS, as it marked the first full year of successful execution of "CLAIM 5". We made significant progress in many key business areas whether from a brand, product, or sales perspective making 2022 a record year for HUGO BOSS.
With our bold marketing approach, the new 'look and feel' of our products, and our renewed brand presence across consumer touchpoints, we strongly boosted brand power of BOSS and HUGO.
CLAIM 1 – Boost Brands
In order to significantly increase the relevance and perception of our brands, we comprehensively renewed the brand images of BOSS and HUGO in January 2022 – from logos, to product and marketing, up to new design concepts for our physical and digital consumer touchpoints. Following the successful branding refresh, today both brands present themselves bolder, more self-confident, younger, and more emotional than ever before.
As part of our ambition to become one of the top 100 global brands, we forecast strong growth across all our brands. We aim to unlock the full potential of BOSS and HUGO by dressing our customers 24/7 and for every occasion, continuing to increase brand relevance among younger consumer groups, and further enhancing our brands' positioning in the digital sphere. At BOSS, we aim at further strengthening our premium positioning in both menswear and womenswear, with a particular focus on Millennials. While the revenue share of BOSS Menswear is expected to stay at a level of above 65% by 2025, the share of BOSS Womenswear is forecast to grow to a level of around 10% of Group sales. HUGO is expected to account for around 20% of Group sales by 2025.
In order to exploit the full potential of BOSS and HUGO, two clearly distinguished marketing strategies have been introduced, aimed at inspiring consumers around the globe, with a strong focus on social media, exciting events, and exceptional collaborations. In this context, HUGO BOSS has significantly stepped up its marketing investments in 2022, targeting a range of between 7% and 8% of Group sales also going forward. This is aimed at strongly increasing the brand value of BOSS and HUGO in the years to come. Fully in line with this range, already in fiscal year 2022 our marketing investments increased to 7.9% of Group sales (2021: 7.3%), first and foremost reflecting the various brand initiatives in the wake of the comprehensive branding refresh. Combined Non-Financial Statement, Brand Power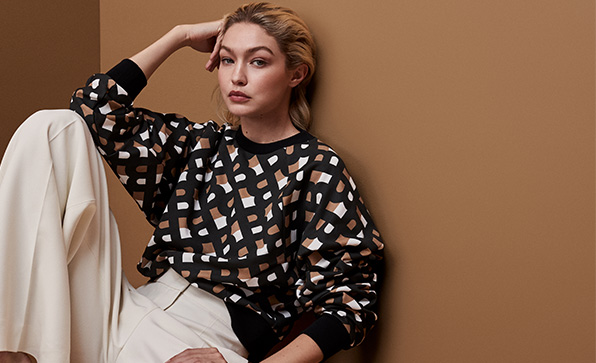 Powerful Brands
We ushered in a whole new era with our highly successful branding refresh - new products, record-breaking campaigns and spectacular events have impressively fueled the power of BOSS and HUGO.
Learn more
Learn more
In 2022, the launch of our new global marketing campaigns for BOSS and HUGO represented a particular highlight as part of our comprehensive branding refresh. Perfectly embodying the brands' younger and more confident image, the campaigns significantly drove momentum in the past fiscal year, attracting new and younger consumers worldwide. The BOSS campaigns for Spring/Summer and Fall/Winter 2022 were showcased by a high-profile cast, including top models Kendall Jenner and Naomi Campbell, singer and actor Lee Min-ho, as well as our BOSS brand ambassadors, runner Alica Schmidt, tennis champion Matteo Berrettini, and TikTok superstar Khaby Lame. The simultaneous HUGO campaigns focused on stars of the Gen Z, such as top model Adut Akech, rappers Big Matthew and SAINt JHN, and dancer Maddie Ziegler. With a total of more than 50 billion views and around 2 billion interactions in 2022, both brands' campaigns proved highly successful.
To further drive brand heat and engage with consumers all over the world, both BOSS and HUGO regularly host exciting brand events. In 2022, these included highly acclaimed see-now-buy-now fashion shows for BOSS in Dubai and Milan as well as popular sporting events in areas such as skiing, golfing, and motor sports. HUGO, on the other hand, hosted a series of branded events during music festival season in Palm Springs while also being on stage presenting its latest collection at a fashion event in Milan, with both events aimed primarily at younger audiences. On top of that, momentum in 2022 was spurred by various collaborations with inspiring personalities and brands throughout the year.
CLAIM 2 – Product is King
Our products are at the very heart of all our business activities. As part of "CLAIM 5", we are strongly investing in optimizing our price-value proposition to ensure premium quality, a high level of innovation and sustainability, and to guarantee clear distinguishing features. This is intended to further strengthen the positioning of BOSS in the premium segment of the global apparel market. In this context, we strive for establishing BOSS as a true 24/7 lifestyle brand covering all occasions – from the office and formal occasions to leisure and sport – with casualness and comfort remaining key. The 24/7 lifestyle image was further strengthened by the reintroduction of BOSS Black, BOSS Orange, and BOSS Green completed in early 2022 and the introduction of BOSS Camel with the Fall/Winter 2022 collection. Representing the pinnacle of our product range, BOSS Camel incorporates our Tailored, Full Canvas, Made in Germany, and Made to Measure lines. As the first point of contact for younger consumers, HUGO focuses on a broad range of trendy and contemporary products reflecting the brand's authentic and unconventional style. In doing so, HUGO is striving to keep its finger on the pulse. With a strong focus on relevant product groups – including denim, jersey, bodywear, and outerwear – the brand is committed to exploiting its full potential by ensuring customers a stylish appearance at all times.
With the launch of our brands' Spring/Summer 2022 collections in early 2022, consumers around the world are experiencing both brands with a completely new "look and feel". Clear brand codes and design elements, among other characteristics, aim at making both brands even more recognizable and strengthening their younger and more confident images. The success of the branding refresh was underlined by strong order intakes from wholesale partners as well as robust sell-through rates in own retail in the past fiscal year. In addition to the main collections of both brands, capsule collections and exceptional collaborations are aimed at further increasing the brand relevance of BOSS and HUGO. In 2022, BOSS launched numerous capsule collections with its brand ambassadors as well as with strong partners such as Porsche or the NBA. HUGO, on the other hand, teamed up with the streetwear brand Mr. Bathing Ape and with denim specialist Replay. Research and Development
We are committed to exploiting the full potential of casualwear and thus also to being among the forerunners of the trend towards a more casual lifestyle. Already today, our casualwear business accounts for more than 50% of Group sales. In addition to a wide range of casualwear styles – from polo shirts, hoodies, and jeans to knitwear, sweatshirts, and sneakers – the further expansion in this segment will also focus on continuing to blur the lines between casualwear and formalwear. As these two occasions have become increasingly interlinked, HUGO BOSS has been able to seamlessly close the gap between tailoring and sportswear. At the same time, we will further strengthen our important formalwear business. Tailoring is firmly anchored in our Company's DNA. Through a modern interpretation, innovative product solutions, and the continuing trend towards a more casual lifestyle, formalwear continues to offer enormous potential for both our brands. We are fully committed to continue to be a leader in the upper premium segment of the global formalwear market also in the years to come.
CLAIM 3 – Lead in Digital
At HUGO BOSS, we see digitalization as key for a personalized, seamless omnichannel consumer experience. At the same time, it is a key enabler for implementing our vision to be the leading premium tech-driven fashion platform worldwide. An essential part of "CLAIM 5" is therefore our clear commitment to further driving the digitalization of our business activities along the entire value chain – from digital trend detection and product development to artificial-intelligence-(AI)-enabled pricing capabilities and the Company-wide rollout of digital showrooms. Overall, and compared to 2019, HUGO BOSS plans to step up its investment in digitalization by more than EUR 150 million by 2025, with the past fiscal year having already seen a noticeably increase. Report on Economic Position, Earnings Development
The HUGO BOSS Digital Campus, established in late 2021, plays a key role in this. It further expands the Company's digital expertise, first and foremost aimed at taking the consumer experience to new levels through the targeted use of data. It complements the digital know-how of HUGO BOSS by combining our own expertise with expert knowledge in the field of data processing. Based in Metzingen (Germany) and Porto (Portugal), the Digital Campus serves as an innovative and creative data hub, with a strong focus on strengthening our global online business as well as maximizing the use of data analytics to reduce complexity and further enhancing efficiency across our business activities. One of the Campus' first priorities was the successful implementation of the global relaunch of hugoboss.com in early 2022. Building on this, the Campus is working on numerous digital initiatives all aimed at continuously improving traffic and conversion rates in our global online business. In this context, HUGO BOSS also aims at making the best possible use of the many advantages offered by AI. Going forward, this should also enable us linking digital and physical retail even closer in order to provide our customers with a best-in-class omnichannel experience.
CLAIM 4 – Rebalance Omnichannel
In order to translate brand power into all consumer touchpoints, HUGO BOSS aims at significantly advancing its omnichannel activities as part of "CLAIM 5", thereby further optimizing its distribution structure. In this context, we aim to ensure a seamless brand experience across all consumer touchpoints.
Digital revenues are expected to increase to more than EUR 1 billion by 2025. Accordingly, the share of our digital business is expected to increase to a level of at least 25% of Group sales. We aim to establish a strong presence at all digital touchpoints – from our own online flagship hugoboss.com to online partner businesses, including digital pure players, leading marketplaces, as well as bricks and clicks. In fiscal year 2022, we have made further important progress in this regard, which enabled our digital business to successfully continue its double-digit growth trajectory of prior years. In this regard, the successful relaunch of our online flagship hugoboss.com in early 2022 as part of the comprehensive branding refresh played an especially important role. In particular, our online store now contains numerous elements intended to significantly improve the customer journey and further increase traffic and conversion. With a clear mobile-first approach, hugoboss.com offers our customers a leading e‑commerce experience, while also fully reflecting the new brand image of BOSS and HUGO. In addition, we have successfully continued to geographically expand the presence of hugoboss.com around the globe. While in the medium term, customers in around 120 markets should be able to purchase the entire product range via hugoboss.com, in 2022 we added a total of 11 markets, bringing our worldwide hugoboss.com presence to 70 markets.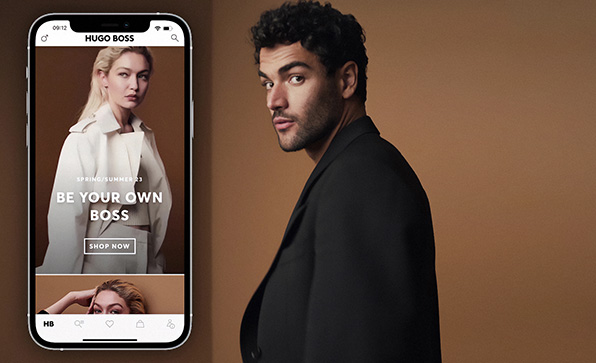 Powerful Touchpoints
We are transfering the power of BOSS and HUGO to all consumer touchpoints and want to offer our customers a best-in-class omnichannel experience.
Learn more
Learn more
HUGO BOSS also aims at fully exploiting the potential of brick-and-mortar retail. With the channel expected to contribute around 50% of Group sales by 2025, for HUGO BOSS brick-and-mortar retail is and will remain by far the largest channel in terms of revenues. Our ambition is to be achieved by growing productivity in brick-and-mortar retail by around 3% per annum as compared to 2019, also by means of further optimizing and modernizing our global store network. In this context, the rollout of our new store concepts, which aim to be significantly more emotional, appealing, digital, and productive than the previous ones, is in full swing. They are intended to make a significant contribution to developing our stores into true points of experience. In this regard, the opening of our new BOSS flagship store on Oxford Street in London in mid-2022 represented an important milestone. The store's new retail approach provides a seamless blend of digital and in-store shopping experience, thereby setting the stage for a leading omnichannel journey. Overall, as of December 31, 2022, consumers can already experience our new BOSS and HUGO store concepts at more than 60 freestanding stores worldwide, including key stores in Dubai, Vienna, and New York City. This also contributed to a robust increase in brick-and-mortar sales productivity to a level of around EUR 11,900 per sqm (2019: EUR 11,100 per sqm). In total, as part of "CLAIM 5", HUGO BOSS is planning cumulative investments in its brick-and-mortar retail business of around EUR 500 million between 2021 and 2025.
At the same time, we plan to grow the revenue share of brick-and-mortar wholesale to a level of around 25% by 2025. In fiscal year 2022, we made important progress in fostering our position in this distribution channel by further strengthening existing partnerships and increasing our market share in key product categories. With a particular focus on our most important business partners, as part of "CLAIM 5", we aim at establishing BOSS and HUGO as true 24/7 lifestyle brands in the wholesale business. The reintroduction of BOSS Black, BOSS Orange, and BOSS Green together with the introduction of the BOSS Camel line, both successfully completed in 2022, play an important role in this context. In addition, we intend to fully exploit the great potential of digitalization also in wholesale. For example, digital sales via our latest generation of virtual showrooms not only accelerates the sales process for both our brands, but also makes it more sustainable and more efficient. At the same time, it enables a straightforward and emotional interaction with our wholesale partners.
Our license business, which also includes fragrances, watches, and eyewear, is expected to contribute up to 5% to Group revenues by 2025. We see considerable growth potential, both in existing and new product groups, and have set ourselves the target of successively exploiting this potential in the coming years.
CLAIM 5 – Organize for Growth
As part of "CLAIM 5", HUGO BOSS intends to drive strong growth across all regions, thereby further balancing its global presence. In the EMEA region, HUGO BOSS is striving to foster its leading position in premium apparel. Here, sales are forecast to grow at a low to mid-single-digit CAGR between 2019 and 2025, with strong double-digit growth achieved in 2022. Key markets such as Germany, the UK, and France are all set to strongly contribute to growth by unleashing their full potential in retail, reclaiming wholesale with strong partners, and driving digital growth across all touchpoints. In addition, we will continue to place a strong focus on important growth markets, including the Middle East and Eastern Europe. With regard to Asia/Pacific, revenues are set to grow at a low-teens compound annual growth rate (CAGR) between 2019 and 2025. As a consequence, the region's revenue share is expected to grow to more than 20% by 2025. In this context, HUGO BOSS will continue to put a strong focus on consistently exploiting its growth opportunities not only in China but also in Southeast Asia & Pacific. In 2022, HUGO BOSS recorded mid-single-digit growth in Asia/Pacific despite far-reaching COVID-19 related restrictions that weighed on the business in China. In the Americas, revenues are projected to grow at a mid-single-digit CAGR between 2019 and 2025, as we will strongly push our brands' 24/7 lifestyle image by fully leveraging the casualization trend, above all in the important U.S. market. In addition, our initiatives in the Americas include a strong commitment to further strengthening our product range at the point of sale as well as expanding our shop-in-shop network with important retail partners. In 2022, we have made strong progress along our 2025 journey, as reflected by strong double-digit revenue improvements in the region. Report on Economic Position, Earnings Development
"Organize for Growth" also means leveraging our existing operations infrastructure as the platform for speed and growth to ensure our Company's success well into the future. Regarding the latter, we are making great strides in transforming our supply chain into a full "digital twin." In order to further increase efficiency and flexibility along the value chain and to push digitalization in the area of business operations, we strive for advancing modular and digital product development, shortening product lead times, and further improving flexibility in production and logistics. In particular, we have set ourselves the target of developing more than 90% of our products digitally by 2025 and reducing lead times by around 30%. This also includes our commitment to further expanding our own production in the coming years. The strengthening of our own production site in Izmir (Turkey), which is by far our largest factory, plays a key role in this. In fiscal year 2022, we have already taken an important step by opening an additional plant in Izmir dedicated to the production of casualwear. Our aim is to be able to react even faster and more flexibly in the future in order to meet consumer demand in the best possible way. Research and Development, Sourcing and Production
With our "CLAIM 5" strategy, we are pursuing a clear vision for our Company: being the leading premium tech-driven fashion platform worldwide.
As a core element of "CLAIM 5", we will further intensify our diverse activities in the important area of sustainability in the years to come, to deliver both a clear, measurable impact on the environment and society alike and drive the emotional engagement with the consumer. We have set ourselves ambitious sustainability goals, aiming for effectively reducing our CO2 emissions along the entire value chain by at least 50% by 2030 and reach 'net zero' by 2050. In addition, we put particular emphasis on establishing an end-to-end circular business model. In this context, we aim to enable 80% of all BOSS and HUGO products to become circular by 2030. For this, we have launched several initiatives in 2022 dedicated to the resale and repair of products already sold. At the same time, across both brands, the share of "RESPONSIBLE Styles," which are considered to be particularly sustainable, is set to increase to 60% by 2025 (2022: 35%). To achieve this, we are increasingly relying on innovative, sustainable materials and production techniques in the creation of our collections. In recent years, HUGO BOSS has already successfully launched products made of pineapple fibers and olive leather, a completely vegan suit and also significantly increased the proportion of sustainable cotton in its collections. Sustainability, Combined Non-financial Statement
Thanks to the outstanding commitment of our employees and teams worldwide and the powerful and rigorous execution of "CLAIM 5," we made 2022 not only a record year for HUGO BOSS, but also a major milestone along our 2025 targets.
2025 Financial Ambition
With its "CLAIM 5" strategy, HUGO BOSS aims to drive Group sales to EUR 4 billion by 2025 (2022: EUR 3.7 billion), which implies a strong CAGR of 16% taking 2020 as the base year, and 6% as compared to the pre-pandemic level of 2019. In doing so, we expect to grow faster than the industry, thus gaining market share. Furthermore, the Company sees the potential to increase Group sales to EUR 5 billion in subsequent years.
4
EUR BILLION
Sales target
2025
In order to successfully deliver on our strategy, we are firmly committed to significantly invest into our products, brands, digital capabilities, as well as our global store network, all aimed at fueling industry-leading revenue growth. Consequently, value creation under "CLAIM 5" has shifted from driving relative margin improvements to delivering strong top-line growth, absolute profitability improvements, as well as superior free cash flow generation. As evidenced by our strong top-line performance in fiscal year 2022, first important investments into our business have already paid off noticeably.
Until 2025, gross margin is forecast at a level of between 60% and 62% (2022: 61.8%), also reflecting product investments to enhance the price-value proposition and fuel top-line growth. At the same time, we are also confident that our EBIT margin will reach a level of around 12% by 2025 (2022: 9.2%), thereby returning to pre-pandemic levels. This corresponds to a robust EBIT CAGR of 6% between 2019 and 2025. Investments into the business will be compensated by leveraging operating overhead as well as strong efficiency gains to be realized by further optimizing the global store network. The latter relates to ongoing relocation and right-sizing initiatives, selective store openings and closings, as well as rent renegotiations of expiring lease contracts.
~12%
EBIT margin target
2025
Driven by the significant top- and bottom-line growth, HUGO BOSS targets a cumulative free cash flow of around EUR 2 billion (including the effects of IFRS 16) for the period between 2021 and 2025 (cumulative free cash flow between 2021 and 2022: EUR 726 million). This is to be supported by further improvements in the management of trade net working capital (target range until 2025: 16% to 19% of Group sales) as well as an even more efficient use of capital expenditure (target range for 2023 and 2024: 6% to 7% of Group sales; from 2025 onwards: between 4% and 5% of Group sales).
The majority of expected cumulated free cash flow will either be reinvested in the Company or distributed to shareholders through regular dividend payments. On the latter, the payout ratio is expected to be between 30% and 50% of net income attributable to shareholders by 2025 (2022: 33%). In line with our vision of being the leading premium tech-driven fashion platform worldwide, we are also considering strategic investments in the areas of product and brand, sales, and digital expertise. In this context, HUGO BOSS successfully entered into a long-term strategic partnership with Swiss innovator HeiQ in early 2022. The partnership includes a USD 5 million equity investment by HUGO BOSS – the first of its kind under "CLAIM 5". Finally, in the event of excess liquidity, we also consider special dividends and share buybacks as viable alternatives to return cash to our shareholders.
Our targets for fiscal year 2023 are presented in the Outlook section. Outlook