Sustainability as an integral part of HUGO BOSS business activities
Strong commitment to climate action and circularity
Renewed inclusion in the Dow Jones Sustainability Index World and Europe
HUGO BOSS is conscious of the economic, ecological, and social impacts of its business activities along the entire value chain. Therefore, our sustainability activities aim to generate added value for our Company, our employees, shareholders, customers, business partners, and society, ensuring long-term success for HUGO BOSS. For us, sustainable business means maintaining the high standards in terms of quality and longevity of our products, while ensuring that they are produced in a social and environmental manner.
Within "CLAIM 5" HUGO BOSS regards sustainability as an important foundation of its strategy and thus an integral part of its business activities. Our ambitious sustainability targets are therefore firmly anchored in our Group strategy. In this context, we will intensify our diverse sustainability activities, particularly in the areas of climate action and circularity, which also includes actively involving our customers. With our clear commitment to sustainability, we consequently put consumers and their increased expectations with regard to sustainability at the core of our activities. In doing so, we aim at driving customer satisfaction to ultimately become one of the top 100 global brands while, at the same time, positively contributing to the ecological and social impacts of our business activities. Group Strategy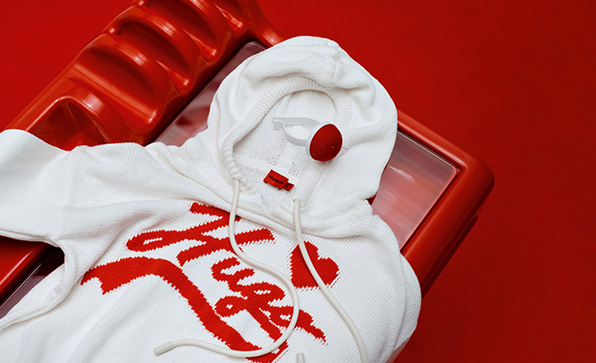 Powerful Circles
At the heart of "CLAIM 5" also lies our unwavering commitment to sustainability. Promoting and implementing a circular business model is of particular importance in this regard.
Learn more
Learn more
To ensure the long-term, sustainable development of our Company, we pursue a holistic, strategic approach that defines key business processes and actions of our operating units. The six fields of action, We, Environment, Employees, Partners, Products, and Society, form the framework for our sustainability program, "Today. Tomorrow. Always." In line with our strategic principle "Sustainable Throughout" in 2022 HUGO BOSS has realigned and decentralized responsibilities within the organization. Consequently, the Group's sustainability activities are now strategically managed by the Corporate Sustainability department as part of the Group Strategy & Corporate Development division. Operational responsibility along the supply chain lies within Business Operations, while Investor Relations is responsible for sustainability reporting. Combined Non-Financial Statement
We – "Creating Values Together": With our various sustainability activities, we are oriented towards the Sustainable Development Goals (SDGs) of the United Nations. In implementing and developing our sustainability strategy, we rely on a regular dialog with our stakeholders as well as close collaboration with businesses and organizations. Our aim is to jointly drive sustainability in the fashion industry. The insights gained are also incorporated into the Company's risk and opportunity management and help us enhance our ethical standards as well as the HUGO BOSS Code of Conduct.
Environment – "Preserving Natural Resources": The aim of environmental management at HUGO BOSS is to reduce the ecological impact of our own business activities. This commitment extends from our own administration and production sites, through the supply chain and our global store network. By means of sustainable building concepts and technologies, electricity from renewable energy sources, and continuous optimization of transport routes, we are working to reduce our CO2 emissions, thus making a direct contribution to protecting the environment. In this context, we aim to effectively reduce our CO2 emissions along the entire value chain by at least 50% by 2030 and reach 'net zero' by 2050. Combined Non-Financial Statement, Environmental Matters
Employees – "Fostering a Fair and Responsible Culture": Our corporate values and the Code of Conduct form the basis for daily cooperation at HUGO BOSS, with the latter providing the foundation for legally and ethically correct behavior in day-to-day business. We are convinced, that an inclusive corporate culture is an important source of creativity, innovation, as well as successful strategy execution. At the same time, further strengthening our position in competing for the most qualified employees remains crucial for the long-term success of HUGO BOSS. In order to increase its attractiveness as an employer, we are focusing on a fair and transparent compensation scheme, a value-based corporate culture free from discrimination, opportunities for individual development, and a wide range of flexible working models to better combine professional and private life. Employees and Teams, Combined Non-Financial Statement, Employee Matters
Partners – "Achieving Joint Responsibility": Complying with social and environmental standards throughout its global supply chain is of fundamental importance for HUGO BOSS as well as its partners. It is therefore an integral part of the respective contractual agreements. These standards are based on internationally recognized frameworks and include, among others, rules governing working hours, fair and safe working conditions, bans on child labor and forced labor, the payment of adequate wages, and freedom of association, as well as the reduction of environmental impacts. HUGO BOSS attaches great importance to the careful selection of its partners, a cooperation based on a spirit of mutual trust, as well as the maintenance of long-term strategic relationships. Sourcing and Production, Combined Non-Financial Statement, Respect for Human Rights
80%
circular products
BY 2030
Products – "Ideas for Tomorrow": HUGO BOSS sets high standards for the design and quality of its products. While the development of these products is increasingly carried out digitally, we put a strong focus on innovative, sustainable materials and manufacturing techniques. At the same time, HUGO BOSS ensures compliance with strict standards on the safety and environmental compatibility of products and their manufacture. The share of our particularly sustainable "RESPONSIBLE Styles" is set to increase to at least 60% by 2025 (2022: 35%). We also committed ourselves to enable 80% of our products to become circular by 2030. In this context, we launched our first fully circular collection in early 2023. We also work closely with our suppliers and other stakeholders on solutions for environmental and animal protection. Combined Non-Financial Statement, Circularity, Research and Development
To further promote the proportion of more sustainable materials within our collections, in early 2022, HUGO BOSS entered into a long-term strategic partnership with Swiss innovator HeiQ. The HeiQ AeoniQ apparel technology enables the production of a sustainable, circular, and recyclable cellulose yarn. This is intended to enable HUGO BOSS to supplement or replace currently used polyester and nylon fibers with AeoniQ cellulose yarn, which binds carbon from the atmosphere during growth. In doing so, we make an important contribution to preserving agricultural land, reducing water pollution, and decarbonizing the fashion industry. Our investment in HeiQ AeoniQ therefore fits perfectly with our ambitious sustainability efforts.
Society – "Promoting Perspectives": The overarching aim of our HUGO BOSS corporate citizenship strategy is to unleash individual potential for success. It is based on three pillars: access to education, equal opportunities, and providing support in times of crisis. In implementing projects and activities along the entire value chain, we also take account of regional needs at individual locations. In order to strengthen our corporate citizenship activities, we have established our own charitable foundation in 2022, which will resume duties in 2023. It will extend the scope of our charitable activities to new partners, particularly in the areas of climate action and environmental protection. HUGO BOSS will also involve its customers in supporting the foundation by making a donation of EUR 0.05 for each own product sold worldwide.
We strive for continuous improvement in all six fields of action and have set ourselves ambitious targets. Sustainability ratings serve as an objective indicator of the progress achieved. In 2022, HUGO BOSS was included in the Dow Jones Sustainability Index (DJSI) World for the sixth consecutive time. Among other things, we scored "best in class" in the categories of innovation management, labor practice indicators, such as diversity and freedom of association, tax strategy, and environmental and social reporting. As a result, HUGO BOSS was awarded the second best overall score in the industry. Our Company was also included in the DJSI Europe for the third time in a row. On top of that, HUGO BOSS was named Green Ranking Champion 2022, as it scored second-best among the 50 German MDAX companies in an analysis conducted by the F.A.Z.-Institut and management consultancy R.A.T.E. The analysis took into account the 60 most visible, publicly available sustainability and ESG rankings and awards worldwide.