Digitalization of product development of high strategic relevance
Focus on innovative materials in terms of performance and sustainability
Exploration of metaverse through launch of first NFT capsule "HUGOxIO"
The primary goal of research and development (R&D) at HUGO BOSS is to develop collections and products that meet the highest customer demands in terms of quality and fit, as well as innovation and sustainability. These requirements are firmly embedded in our strategic claim "Product is King," which puts the product and consumers at the center of everything we do. As part of our "CLAIM 5" strategy, we aim at further optimizing the price-value proposition in order to guarantee premium quality, a high degree of innovation and sustainability, and features that enable our brands to clearly distinguish from the competition. The potential of digitalization is to be fully exploited throughout the entire product development process. Inspiring capsule collections and exceptional collaborations with well-known brands and personalities are also intended to spur the relevance of BOSS and HUGO. Group Strategy, "Product is King"
Research and development at HUGO BOSS runs along the product development process, which involves the transformation of a creative idea into a commercial product. The work is carried out at three development centers in Metzingen (Germany), Coldrerio (Switzerland), and Morrovalle (Italy). While the majority of our collections are developed at the Group headquarters in Metzingen, the Coldrerio site is mainly responsible for the development of the product categories shirts, knitwear, as well as shoes and accessories. In Morrovalle, we develop high-quality shoes and leather accessories.
Product development process
The product development process starts with a creative idea, constantly taking into account customers' expectations. Our collections are centered around brand strategy, brand values, as well as global mega and fashion trends. To ensure a holistic brand message, collection and brand communication are closely aligned right from the start of the development process. The transformation of the creative idea and designs into specific collections also takes into account sell-through rates of previous collections as well as feedback gathered from our wholesale partners. In the conventional product development process, the second step sees our design teams' creative ideas tailored in the pattern design phase. Technical product development then turns the models into prototypes and tests their suitability for the industrial production process. In conventional product development, the prototyping is followed by the manufacture of sample collections in order to ensure that the products meet our high standards in terms of quality and fit. Once production has been completed, the collections are ready to be sold on hugoboss.com and delivered to our own retail stores as well as wholesale partners.
>90%
digitally developed
products
by 2025
The digitalization of product development is of high strategic importance to HUGO BOSS. In line with our strategic claims "Lead in Digital" and "Organize for Growth", we have set ourselves the goal of developing more than 90% of our products digitally by 2025 (2022: around 55%). Also in fiscal year 2022, we significantly advanced the digitalization of our product development, for example via strengthening our 3D foundation and an improved simulation of products and avatars. We also made further progress in developing the necessary knowledge and skills among our development teams. Thanks to our strong expertise in the field of digital product development, training courses for 3D competence can meanwhile be conducted in-house, aimed at establishing a true digital mindset with an end-to-end understanding of the digital processes. The digital workflows allow us to operate more flexibly throughout the entire value chain, shorten lead times, and adapt more effectively and quickly to current consumer trends. In the medium term, this should reduce lead times by around 30%. In addition, the digitally developed styles are also used in distribution – for example, when selling the collections to wholesalers via digital showrooms or via "virtual try-on" on hugoboss.com. Already today, we are able to run the entire product development process digitally. A good example for this is the BOSS Legends capsule with Bruce Lee, which will be launched in early 2023, and which is developed completely digitally – from first sketches and the selection of materials to prototyping and the distribution of the finished capsule collection.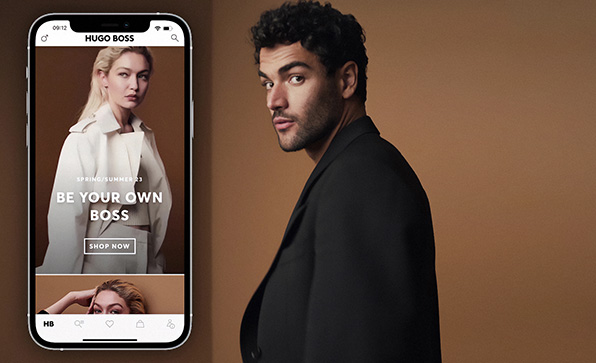 Powerful Touchpoints
We are transfering the power of BOSS and HUGO to all consumer touchpoints and want to offer our customers a best-in-class omnichannel experience.
Learn more
Learn more
Key areas of research and development
We aim to unlock the full potential of BOSS and HUGO by perfectly dressing our customers 24/7 and for every occasion. Driving casualization along our collections and further optimizing wearing comfort through the use of innovative materials are of particular importance. In 2022, we further expanded the BOSS Performance product range, which combines formalwear outfits with sportswear elements, thereby perfectly matching the needs of our customers. The offering now ranges from super-stretchable and machine-washable styles with a particularly high level of comfort to light weight and wrinkle-free products that can be easily carried in hand luggage in a small pouch. Another product highlight in 2022 was the launch of our first fully knitted Merino wool-blend suit. By its nature, wool offers breathability and stretch – key features sought in the development of a BOSS Performance style. Offering an innovative approach to suiting through the implementation of cutting-edge yarn development, knitting techniques, and workmanship, BOSS delivered a product that keeps the pace with today's on-the-go lifestyle while ensuring that no fabric goes to waste during assembly, hence saving valuable resources. Group Strategy, "Product is King"
We are fully committed to live up to the growing customer expectations in terms of sustainability. To this end, we increasingly rely on innovative, sustainable materials and manufacturing techniques in the development of our collections. We have set ourselves the goal to increase the share of particularly sustainable "RESPONSIBLE Styles" in the product range of BOSS and HUGO to 60% by 2025 (2022: 35%). A significant contribution in 2022 was made through the BOSS x PHIPPS collaboration – the first capsule collection exclusively consisting of "RESPONSIBLE Styles." The BOSS x PHIPPS collection breaks ground in finding inventive ways to save resources using surplus garments and fabrics as their base. To further drive the innovative strength and sustainability of our brands, we have also entered into a long-term strategic partnership with HeiQ AeoniQ in 2022. This partnership focuses on the production of a sustainable, circular, and recyclable cellulose yarn with the aim of replacing oil-based fibers such as environmentally harmful polyester and nylon. While 2022 was all about testing and developing first pilots with the AeoniQ yarn, we successfully launched the first BOSS polo shirt made of ~90% AeoniQ together with BOSS brand ambassador Matteo Berrettini in early 2023. Sustainability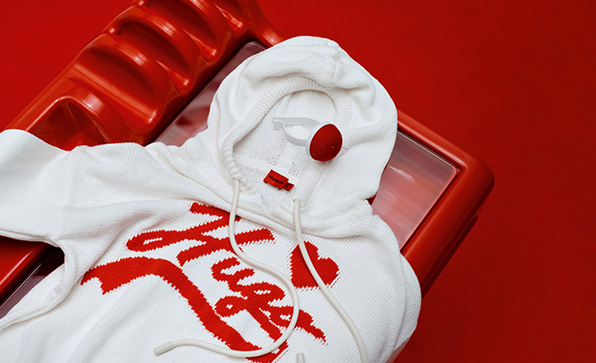 Powerful Circles
At the heart of "CLAIM 5" also lies our unwavering commitment to sustainability. Promoting and implementing a circular business model is of particular importance in this regard.
Learn more
Learn more
The four main collections of BOSS and HUGO are designed to offer customers both a broad range of basic and core products as well as a variety of seasonal and particularly fashion-conscious styles. Besides these main collections, we team up with other well-known brands and personalities to create inspiring capsule collections and exceptional collaborations. In doing so, we want to constantly increase the relevance of BOSS and HUGO and excite consumers all over the globe. In 2022, BOSS launched numerous capsule collections with its brand ambassadors as well as with strong partners such as Porsche or the NBA. HUGO, on the other hand, teamed up with the streetwear brand Mr. Bathing Ape and also with denim specialist Replay. In 2022, HUGO also announced its collaboration with Web 3.0 company Imaginary Ones on a holistic, 360-degree metaverse experience. With the launch of its first-ever NFT collection, HUGO took a major step forward in its exploration of the metaverse, which helped to establish the brand as a digital fashion player and smart adopter in this space. The 1,001 3D animations, entitled 'Embrace Your Emotions,' sold out in seconds and created a huge buzz on social media. Exceptional collaborations like these will continue to play a key role in attracting younger consumers and fully exploiting the great potential of both brands in the future.
R&D key figures
The creative and development departments of HUGO BOSS are staffed primarily by fashion and 3D designers, tailors, shoe and clothing technicians, and engineers. As of December 31, 2022, the number of employees in research and development totaled 656 (2021: 606).
In line with our strategic claims "Product is King" and "Organize for Growth", in fiscal year 2022 research and development expenses grew 41% to EUR 81 million, with the majority of the increase mainly resulting from an increase in personnel expenses. At 71%, personnel expenses continued to account for the majority of R&D expenses last fiscal year (2021: 72%). The remainder is primarily composed of other department expenses. In 2022, R&D costs were again mostly recognized as expenses at the time they were incurred. In addition, production-related development expenses are included in the cost of conversion of inventories. No development expenses were recognized as internally generated intangible assets due to the short product life cycles.