Employer attractiveness
Achieving our strategic and financial targets is largely dependent on our employees, their know-how, and their commitment. Increasing complexity and a fast-moving competitive environment lead to growing demand for skilled employees and executives. For this reason, it is crucial for HUGO BOSS to further strengthen its position in international competition for the most qualified employees. To increase our attractiveness as an employer, we therefore not only focus on a fair and value-based corporate culture, but also on the promotion of diversity within the organization, opportunities for individual development, and a variety of offers to make it easier to combine professional and private life.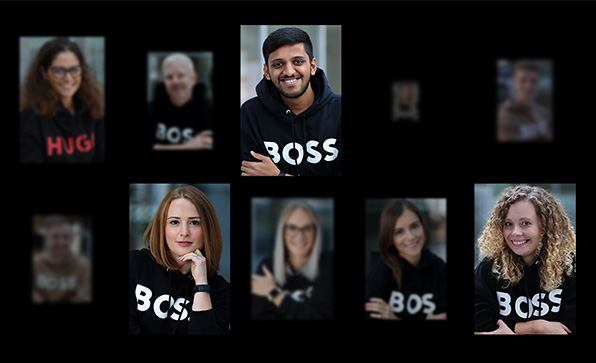 Powerful People
Meet the powerhouse people behind "CLAIM 5," with their exceptional commitment and great dedication to our Company and our two strong brands, BOSS and HUGO.
Learn more
Learn more
The central Human Resources (HR) division is responsible for personnel strategy and Group-wide personnel management. Human Resources reports directly to the Chief Executive Officer (CEO) and remains in close contact with the executives of the central departments, as well as the HR departments and executives of the Group companies. The Managing Board is kept regularly informed about the progress of personnel work and is involved in all major decisions.
Targets
Further enhancing our attractiveness as an employer is a key target of HR work at HUGO BOSS. This is intended to further strengthen our position in international competition for highly qualified employees and to increase motivation, commitment, and loyalty among our approximately 17,000 employees.
Measures
For HUGO BOSS, in addition to promoting diversity in the workforce, the systematic training and development of its employees, as well as supporting work-life balance are among the top strategic priorities in HR management. Employees and Teams
Diversity is a fundamental part of our corporate culture. All employees are to be guaranteed a discrimination-free working environment with equal opportunities. In addition, HUGO BOSS places an important focus on promoting an inclusive environment of trust and belonging, as we regard the individuality of each employee and a culture of diversity as key success factors. The central Global Diversity and Inclusion department is to further raise awareness of diversity and inclusion throughout the Company and address important diversity issues. Centrally initiated measures are driven forward by an internal task force. On the basis of an employee survey conducted in 2021, HUGO BOSS identified the aspects of "integrative leadership," "diversity and inclusion training," and "gender empowerment" as key topics, among others, and established initial employee training courses. A policy and voluntary commitment against discrimination and harassment published on our corporate website in 2022 is intended to emphasize our Group-wide commitment to a discrimination- and harassment-free working environment.
HUGO BOSS offers its employees a wide range of individual development opportunities. Structured HR development programs for professionals and managers shall enable the promotion of employees according to their competencies, expand their knowledge, and strengthen their skills, for example with regard to a management career. In addition to the existing Employee Development Program (EDP) and Leadership Development Program (LDP), which were conducted in an international context for the first time in 2022, the Company established the Group-wide High Potential Program (HIPOSS) last year, which is designed to prepare selected high potentials for cross-functional roles in the first management level below the Managing Board. Our employees also have access to a broad selection of face-to-face and guided online live trainings as well as e-learning courses on social, professional, and management skills via the Group-wide "HUGO BOSS University" platform. At our own production and logistics sites, face-to-face training sessions and workplace briefings form an integral part of the induction process for industrial staff.
HUGO BOSS has established the "Performance & Development Dialog" (PDD) to provide process and system support in creating individual development opportunities. An online tool collects data relating to performance assessment, potential evaluation, and development planning of our employees and is designed to ensure the greatest possible objectivity, also through the display of multi-dimensional feedback. The aim of the PDD is to increase transparency, particularly with regard to possible cross-divisional and international development paths within the Group, to get the best out of employees and retain talent in the Company for as long as possible. To this end, the tool was expanded in 2022 to include, among other things, system-supported succession planning.
To increase our attractiveness as an employer, we also support our employees in combining professional and private life. A variety of flexible working models, such as individual part-time arrangements, trust-based working hours, or working from home, are designed to further increase the motivation and commitment among our employees. Newly established models such as job sharing and co-leadership complete the offering. The majority of our employees already benefit from flexible working hours and possible part-time arrangements. For example, employees in our own production facility in Izmir (Turkey) are also able to reduce accrued overtime hours or take advantage of other part-time arrangements. Working from home is available to almost all administrative staff at HUGO BOSS. In addition, we offer administrative employees in Germany the hybrid work concept "Threedom of Work," which provides for three days of attendance at the Company's headquarters in Metzingen, while employees are free to choose their place of work on the other two days. Similar models have also been established at selected international locations.
At HUGO BOSS, we are also committed to strengthening family friendliness as part of the Germany-wide cooperation "Success Factor Family." In addition, we already offer a variety of family-friendly options to our employees. For example, young families at the Metzingen site have access to places in the local day care center and holiday care programs. In addition, the Company's own day care center was opened in February 2023. We also promote work-life balance at our international locations. For example, employees in the U.S. and Canada have free access to an Employee Assistance Program (EAP), which offers independent advice on matters such as childcare and caring for family members. In addition, our employees in both these countries have the choice of spending part of their gross personal income for external care and support services through flexible spending accounts (FSAs).
The attractiveness of HUGO BOSS as an employer was again recognized several times in 2022. In the "Working in Fashion 2022" study conducted by the German industry magazine TextilWirtschaft, HUGO BOSS further improved, taking a strong third place (2021: fifth place). The Company ranked particularly high in the categories of salary levels and opportunities for promotion and training, taking second and third place, respectively. In addition, HUGO BOSS was able to improve its ranking to one of the Top 50 Diversity Leaders in 2022 – based on an independent Europe-wide ranking by Statista and the Financial Times (2021: Top 100 Diversity Leaders). In the global study "World's Best Employers 2022" by Forbes and Statista, HUGO BOSS was ranked in the upper midfield of the 800 best employers worldwide.
Performance indicators
We determine the satisfaction and the needs of our employees as part of an employee survey conducted annually in cooperation with Great Place to Work Germany. The findings provide us with important impetus for the further development of our HR work and corporate culture. In addition, the results of the annual employee survey represent an important component of the long-term incentive program (LTI) as part of Managing Board compensation. With a Group-wide participation rate of 70%, overall satisfaction rose to 78% in 2022 (2021: participation rate of 62%; overall satisfaction of 76%). Going forward, we aim at maintaining a strong level of at least 75% overall satisfaction. At HUGO BOSS AG, overall satisfaction increased to 86% in 2022 (2021: 83%). Employees particularly appreciated the fair and open corporate culture and also stated that they were proud to work at HUGO BOSS.